BWSC has active and ongoing programs that monitor the health and function of its systems. This section highlights our major preventative maintenance programs.
Water Main Flushing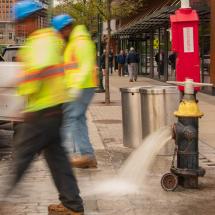 The Water Main Flushing Program improves drinking water quality for residents and businesses throughout Boston. The flushing process may temporarily cause discolored water and a reduction in pressure. It should be noted that both of these conditions are temporary and not harmful. If, however, either of these conditions persist, please contact Community Services at 617-989-7250.
BWSC appreciates your patience as we work to improve the quality of drinking water throughout the City of Boston.
Please check HERE for updated flushing areas and dates.
Pipe Cleaning and Camera (CCTV) Inspections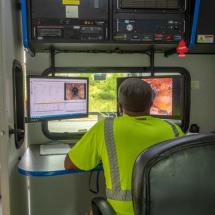 Sewer and storm drain pipe cleaning is conducted throughout the year. BWSC crews and contractors remove sediment and debris that has built up in the pipes to keep sewage and stormwater flowing. 
After the pipes are cleaned, they may also be inspected with closed circuit television (CCTV) equipment. CCTV is one of the most effective methods to determine defects, the likelihood of failure, and rehabilitation needs of collection system pipes. CCTV is the industry's tried and true method of determining the location of features and defects' magnitude.
Catch Basin Cleaning
Catch basin cleaning is conducted throughout the year. BWSC crews and contractors remove sediment and debris that has built up in catch basins. A catch basin, also known as a storm drain inlet or curb inlet, is an opening to the storm drain system that typically includes a grate or curb inlet at street level where stormwater enters the catch basin and sediment, debris and associated pollutants are captured.
If debris is blocking a catch basin near your home or business, remove and dispose of it properly in trash receptacles. During the winter months, please maintain the openings to catch basins by clearing away any snow or ice.
It is important to maintain catch basins to prevent blockages after a storm and minimize the number of pollutants entering storm sewers which may eventually discharge into local waterways such as the Neponset River, Charles River, and Boston Harbor.
Use this Catch Basin Locator Map to locate catch basins in your neighborhood.
If you think a catch basin on your street needs to be cleaned, call BWSC Operations at 617-989-7900.
Sanitary Sewer Overflows (SSOs)
A sanitary sewer overflow (SSO) is an unintentional discharge, spill or release of untreated sewage into the environment or a property. SSOs are also known as sewer backups and the resulting flooding can cause damage to a property and pollute the environment.
Manhole Inspections
Manhole inspections are performed throughout the year by BWSC crews in order to inspect the condition and integrity of sewer and drain manholes that make up Boston's collection system, many of which were installed over a hundred years ago!