BWSC is committed to providing you with safe and secure service. This section contains important safety measures and tips you can take to protect your home.
Cleanup Procedures After a Sewer Backup
After the cause of the sanitary sewer overflow (SSO) or sewer backup is resolved, the most important cleanup steps are to restore the environment to a dry state and salvage any valuable property. The longer sewage remains in your home, the greater the potential for damage to your home and its contents, and for health problems to develop for your family. 
Prevent Frozen Pipes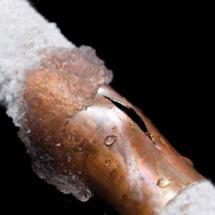 When the temperature is extremely cold, water pipes in your home may freeze.
To help prevent frozen pipes, take the following precautions:
Check for open windows, air vents, and wind drafts near water pipes
Seal leaks in the basement foundation where cold air may enter. Stuff holes with insulation. A tiny opening may cause an exposed pipe to freeze
Allow a slow trickle of water to flow through faucets connected to water pipes that run through unheated spaces
Keep sink cabinet doors open during cold spells to allow warm air to circulate around the pipes
Insulate pipes in unheated spaces like garages, basements, and crawl spaces
It is important to locate the water shut off valve and know how to shut off the water
If a pipe bursts, shutting off the water promptly can help minimize the damage.
If your pipes freeze, use a hair dryer to thaw the lines safely. Thawing will not be fast, but it will be safe. NEVER USE AN OPEN FLAME TO THAW PIPES.
When pipes are frozen, there is often water available in at least one faucet. If there is no water coming through any of your taps, there may be a problem in your street or yard. Call BWSC's 24-hour Emergency line at 617-989-7000.
Prevent Water Intrusion
The following guidelines have been developed to help protect your home from water damage:
Elevate heating and hot water systems using a masonry base at least 12 inches above flood level
Electrical panels and utilities also should be relocated to an area above the flood panel
If space is not high enough to allow elevation of the utility, try to move it to an upper floor or attic space
Build a floodwall around basement windows to protect the basement from low-level flooding 
Anchor fuel tanks to prevent them from floating or overturning
If there is a catch basin in front of your home, try to keep leaves and debris off the top of it to help prevent street and overland flooding during heavy rainstorms
Install a floating floor drain plug at the lowest part of the basement or the lowest finished floor to reduce backups; when the floor drainpipe backs up, the float rises and plugs the drain
Install backwater valves on all plumbing fixtures located below street grade; the Backwater Valve Pamphlet explains why these are needed and how to have them installed
If your basement or home is flooded, remember that electricity will go to ground through any good conductor:  metal, liquid, or you. Stay out of its path. NEVER touch appliances or wires when hands or feet are wet.
Scam & Fraud Protection
To protect yourself, your family and your home, please remember these important safety points:
BWSC employees do not show up unannounced
If an emergency water or system incident occurs a BWSC representative will identify themselves with a photo ID
Don't let anyone in your home without official BWSC identification
If you are unsure about letting a BWSC representative into your home, call Customer Service for verification at 617-989-7800.
BWSC representatives on the road never ask for payment. Payments are only accepted by mail, at the BWSC main office, online or at designated Neighborhood Site Locations.